Northeast Normal University Big English & Politics Competition Fall 2016
Jump to: ROUND 1, ROUND 2 , THE 8 QUALIFYING TEAMS, AWARD CEREMONY (Spoilers Ahead) Fall 2017
BACKGROUND: Anyone outside Southeast Changchun in Northeast China in fall 2016 missed a spectacle for the ages! Thirteen teams from NENU's Dept. of Law & Politics (政法学院) faced off in an epic battle of English and political knowledge and skill to the death. Or to the 3+ hour near-death experiential conclusion of each round. No actual fatalities other than a 150-yuan karaoke machine were reported, though many a stomach did turn with hunger, and nary a soul did not lust for the inassailable glory of the grand prize!
Organized weeks ahead of time by Julian and an intrepid trio of senior international politics majors, the competition spanned two weekends, a Saturday and Sunday in the growing cold of mid-November. Knowing only that adventure awaited them, these three assistants and their table-turning classmate knights forged bravely ahead into the abyss of short-to-medium-term planning in the PRC, on many an occasion snatching victory from the jaws of defeat. Dates and times for the event changed no fewer than ten times, with each conflict seeming to push us further and further back into the semester, casting doubt on its very feasibility, leading some to question the folly of proposing independent extracurriculars at all, until...
On a tip from the Dept. chair at a strategic student-cooked lunch party in Julian's dwelling, Asst. Phebe Dong courageously applied for and gained school funding to entice registrants with promises of untold wealth, in addition to the natural fame pursuant to victory. In addition to Julian's own bounty of obscure Western music CDs, Russian candy direct from the Heihe border, maps of 天下 "All Under Heaven," coveted U.S. coins and $1-bills, said assistant made victory a self-fulfilling prophesy with an additional 5000 yuan in official funds. The grand prize of 1000 yuan, 2nd & 3rd place of 500 yuan, and 300 yuan for each team from 4th to 8th place undoubtedly lured many a fence-sitter into the arena of battle! Remaining funds bought advertisement and consoled the vanquished for their loss of life, limb, and lunch hours with candy, notebooks, USB lamps, and assorted knick-knacks.
With official funding and blessing in hand, class monitors and fudao yuan did auspiciously commence to assemble their best and brightest into teams of five to join in the jousting. With some 班classes in the notoriously populous PRC surpassing fifty students each, only the very finest examples of Chinese youth were selected. The competition consisted of two rounds, first a brutally efficient qualifier to narrow the field by tests of English orthography and amusement, then of political, trivial mettle.
Registrants were as follows: Team 1= 2016 Politics A 政治; Team 2= 2016 Politics B 政治; Team 3= 2016 Law A 法学; Team 4= 2016 Law B 法学; Team 5= 2016 Public Administration 行政管理; Team 6= 2015 Politics A 政治; Team 7= 2015 Politics B 政治; Team 8= 2015 Public Administration 行政管理; Team 9= 2014 Public Administration 行政管理; Team 10= 2014 International Politics A 国际政治; Team 11= 2013 International Politics 国际政治; Team 12= 2014 International Politics B 国际政治; Team 13= 2016 思教; Team 14= 2015 Law 法学.
Would you care to wager who was the winner? You'll get another chance to place your bets with more information after Round 1 ends.
ROUND 1: Immediately, in this first of many challenges, team chemistry and synergy were confronted by an order to divide in two, with two students assigned to 4-player "frantic parties" of Sinologically-themed Wii Wordjong, and three to hold court in the analog realm of America's favorite word game. The games began at 9am in adjacent first-floor classrooms and thanks to Scrabble stragglers did not conclude until about 12:15 in the afternoon.
Under such immense pressure to perform, Team 9 could not even muster the courage to make an appearance and was awarded zero points. Maybe next time!
The top 5 teams in WordJong were (1st place tie with 150 points) Team 4= 2016 Law B 法学; Team 6= 2015 Politics A 政治; and Team 8= 2015 Public Administration 行政管理. In 4th place with 141 points was Team 2= 2016 Politics B 政治. In 5th place with 140 points was Team 1= 2016 Politics A 政治.
The top 5 teams in Scrabble were, in first place with 178 points Team 6= 2015 Politics A 政治. In second place with 177 points Team 11= 2013 International Politics 国际政治. In third place with 157 points was Team 10= 2014 International Politics A 国际政治. In fourth place with 149 points was Team 5= 2016 Public Administration 行政管理. In fifth place with 137 points was Team 12= 2014 International Politics B 国际政治.
Team Ranking after Round 1 (Only top 8 advance to Round 2): Eliminated in Round 1 were in 13th with 208 combined points Team 14= 2015 Law 法学. 12th with 225 combined points Team 13= 2016 思教. 11th Team 7= 2015 Politics B 政治. 10th 2016 Politics A 政治. 9th Team 3= 2016 Law A 法学. Advancing to the second round were Teams 12 (8th place with 242 combined points), 5 (7th with 249), 2 (6th with 253), 10 (5th with 255), 8 (4th with 268), 4 (3rd with 279), 11 (2nd with 284), and 6 (1st with 328).
Special thanks to assistants in Round 1: Erika, Adam, and the senior international politics team.
APPENDIX: In the interest of transparency (perhaps a preview for Fall 2017 if we can do an English & Public Administration competition to fit Julian's new teaching duties), the official scoresheets from ROUND 1 are below...
ROUND 2: Having proved themselves in the noble fields of spelling, button-pressing, and dictionary consultation, the eight surviving teams reassembled on Sun., Nov. 20th for what would be their ultimate quest: the unparalleled, hydra-headed gauntlet that is the English and politics review game!
This ad was hung prominently on the first floor bulletin board in the Dept. of Law & Politics, promising utter carnage!
The opening ceremony was marred by a malfunctioning screen,
which brave volunteers managed to corral into safety for the first event. But before revealing the secrets of the universe that was ROUND 2...
QUALIFYING TEAMS INTRODUCTION: Let's get to know our finalists. As ringleader of the circus, I did not personally teach any of the Freshmen teams who comprised Teams 5 (Public Administration), 2 (Politics), and 4 (Law). Thus, I cannot vouch for their identities. If this event were to have happened in my first semester of college, I'm sure I'd think I was attending the very best institute of higher learning in the whole world!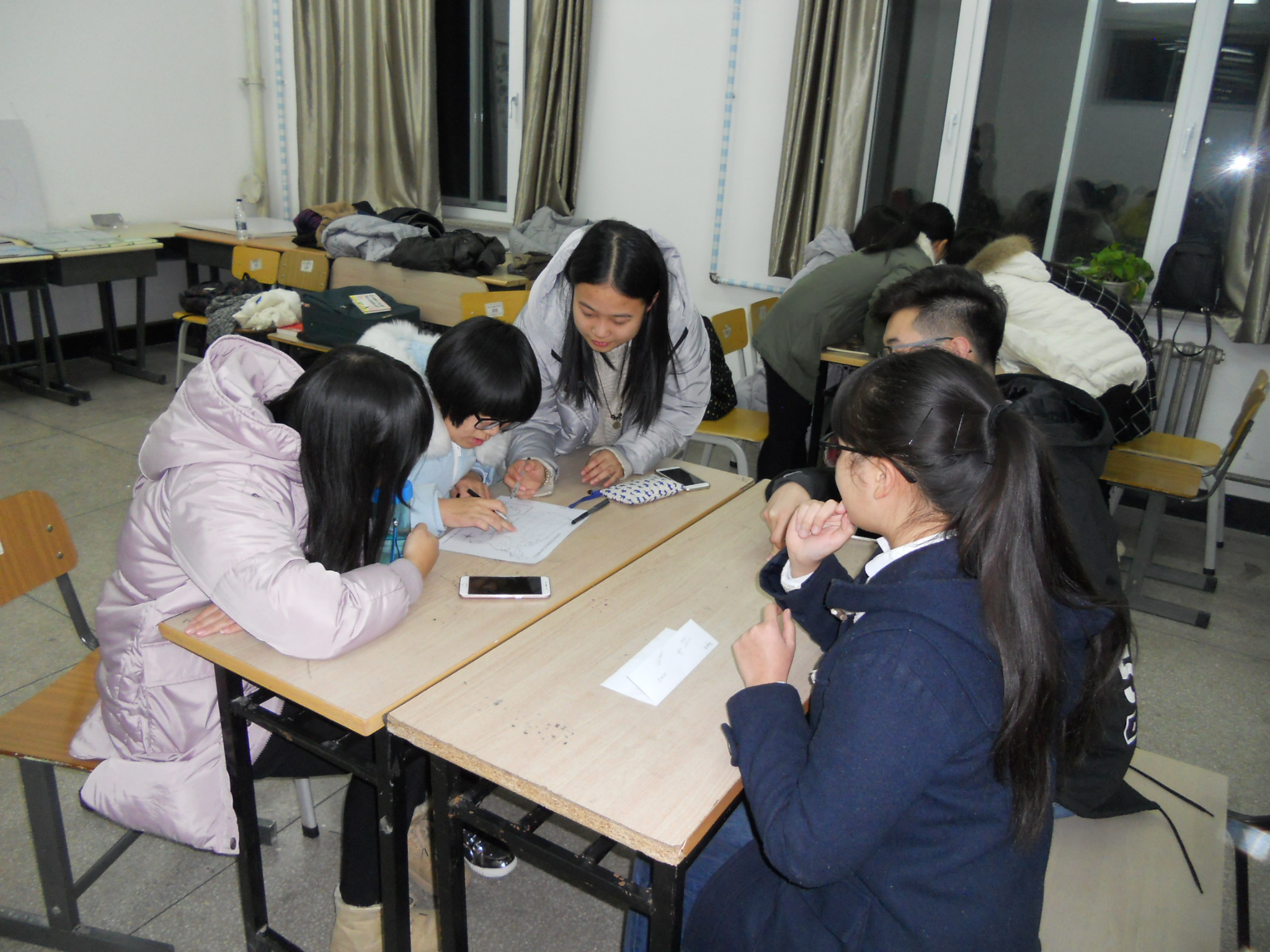 The Law team (4) was a big winner in Wordjong for Round 1, but along with fellow freshmen classes, they faced entirely new challenges in Round 2, where experience was prized more than quick thinking and reflexes.
Representing the sophomore class who entered NENU in 2015 were 2015 Public Administration (Team 8) and 2015 Politics (Team 6) 班, pictured below.
Pictured at Left are: Maggie, Eve, Jessica, Rita, and Emma. This plucky band of young ladies were the stars of my weekly fall course in Oral English for Public Administration. Showing great dedication to learning, several of them also audited my Newark (RUNIN) courses in Spring 2017 until the practice was unfortunately overturned by top brass. The astute reader will recall that their team also bested their opponents at Wordjong.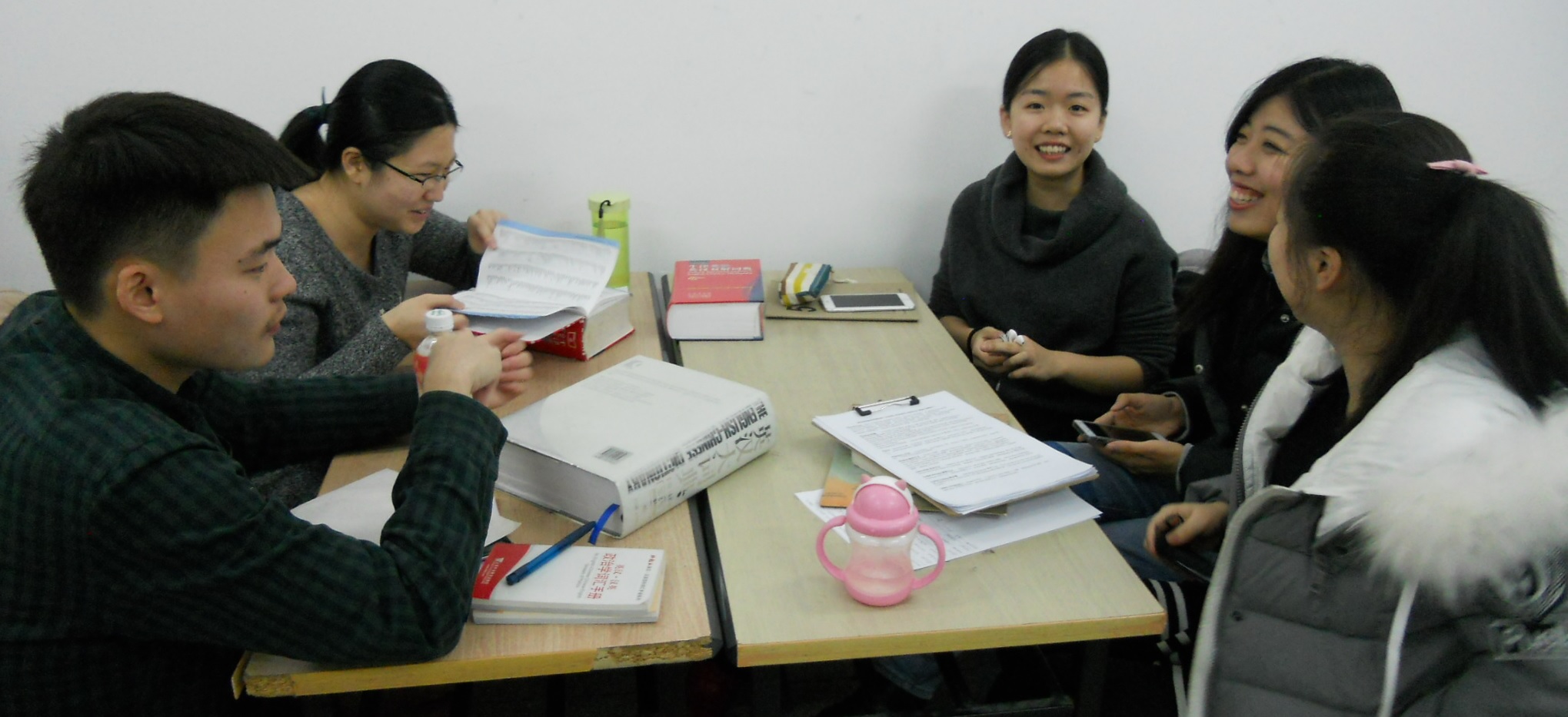 Pictured at Left are: Jess, Gloria, Ciel, Cathy, and Danger. Drawing from a deep pool in my largest class at NENU, this team mastered Round 1 with Scrabble apps (which may be outlawed if we do this again) and always have thick dictionaries at the ready. Their only course with me was English Listening & Speaking for Political Science and International Politics, containing a mix of IR, comparative, and American topics.
The junior and senior class teams both majored in international politics, perhaps having an advantage in being in the program longer (having more classes in English and generally). Two groups of juniors (Team 10 & Team 12) and one group of seniors (Team 11) would vie for the championship, pictured below.
Pictured at Left are: Nadia, Anakin, Catherine, Jennifer, and Lulu. Their team had to overcome the single lowest score, a 98 out of 150, in the Wordjong competition to reach Round 2, but they are assuredly in the upper echelon of NENU academia.
Pictured at Left are: Lisa, Sunny, Zoie, Fiona, and Sally. Despite being from the smallest class, theirs was the only 班 to have both entrants qualify for the final round as 14 International Politics A & B. There's no hiding
their prospects for greatness, and several of them are applying for top graduate programs in the PRC. They took three courses with me, Listening & Speaking, Reading, and Writing for International Politics and almost all rang in 2017 with me at our Dec. 31st pizza party
.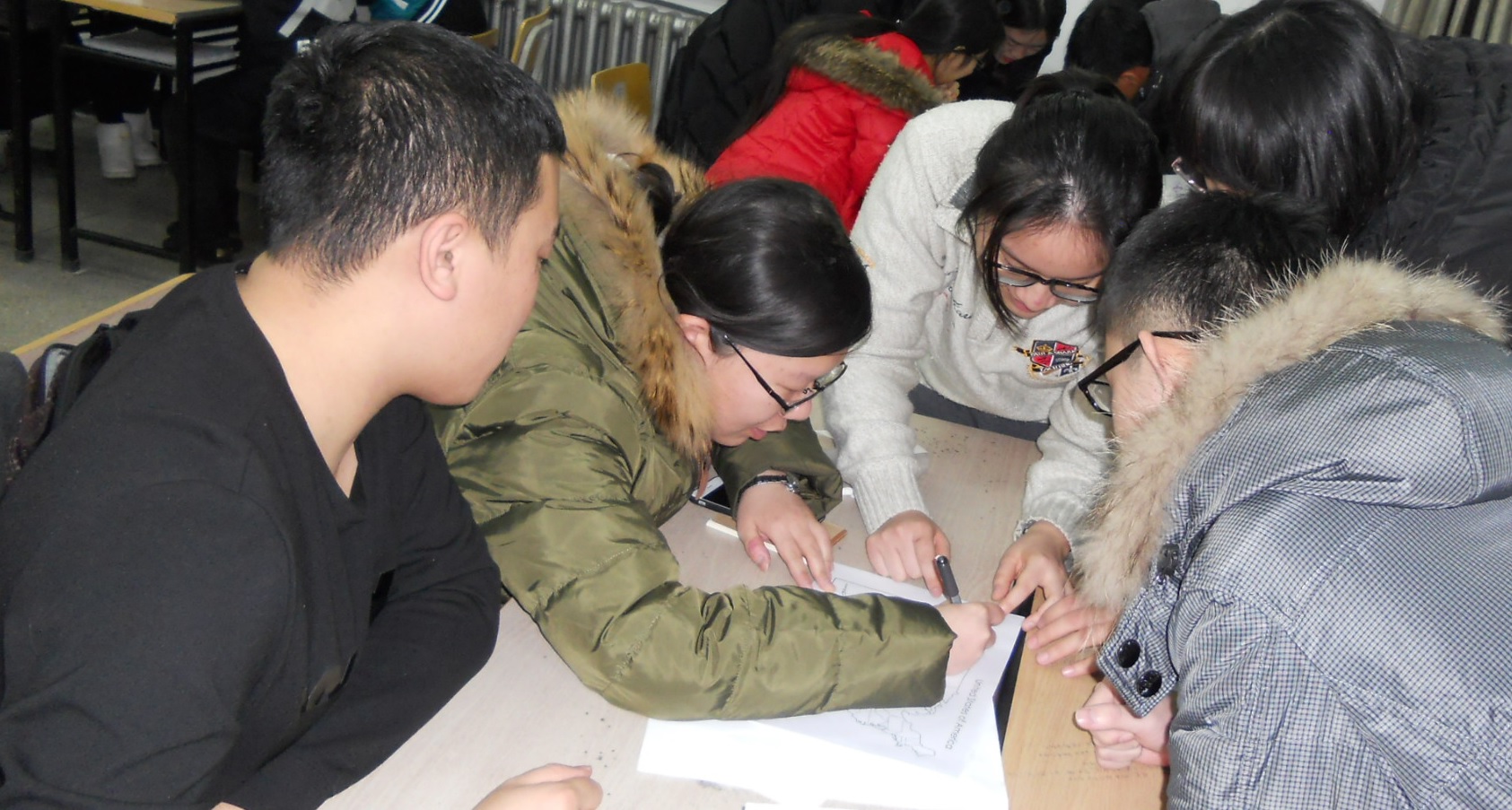 Pictured at Left (though no one was looking at the camera) are: Leo, Jody, Lucy, Phebe, and Alexios, whose class attended my IR Theory course in my first semester in Fall'15 and the first version of Writing for International Politics in the following spring. This event certainly wouldn't have been possible without them, and since they were present at every step of the planning phases, including a pre-event hotpot summit, they had the best idea of how the questions and challenges would be structured and scored. Did that advantage and overall greater experience translate into victory? Read on for the exciting results!
Given these odds and expectations, imagine each team is a horse or racing team. Which would you pick to win, place, and show? Write down your bets and hang on for the ride. It's about to get rough!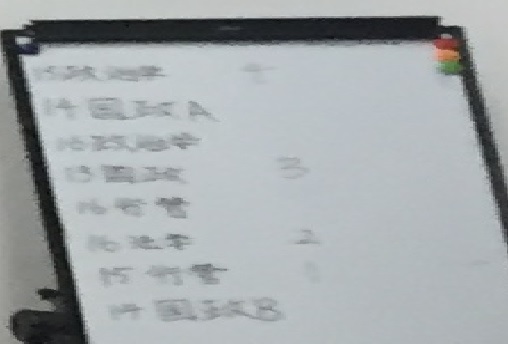 At the beginning of Round 2, the top 4 teams were awarded with a head start for their performance in ROUND 1, while the bottom four teams began with zero points. This put the Sophomore Politics majors (Team 6) in an early lead with 4 points, the Seniors (Team 11) in second with 3, the Freshmen Law students (Team 4) in third place with 2 points, and the Sophomore PA majors (Team 8) in fourth with 1 point. All other teams began from 0.
Round 2 alternated between questions in the categories of Law, Public Administration, International Politics, and U.S. Politics, for which each team had to agree on a single answer, and what were called "Team Challenges" which generally involved more action, described below.
For the questions, teams first decided how many points to wager on getting a correct answer. The questions proved more difficult than most teams expected, and as getting the answer wrong meant losing that many points, wagers of zero became common in later rounds (something to be improved for next time).
Team challenges included filling in blank maps, word scrambles, writing dictated sentences on the chalkboard quickly and accurately, rhyme battles, ordering countries' currencies and presidents, and a word-guessing game based on vocabulary from previous class sessions. The final round was a whisper race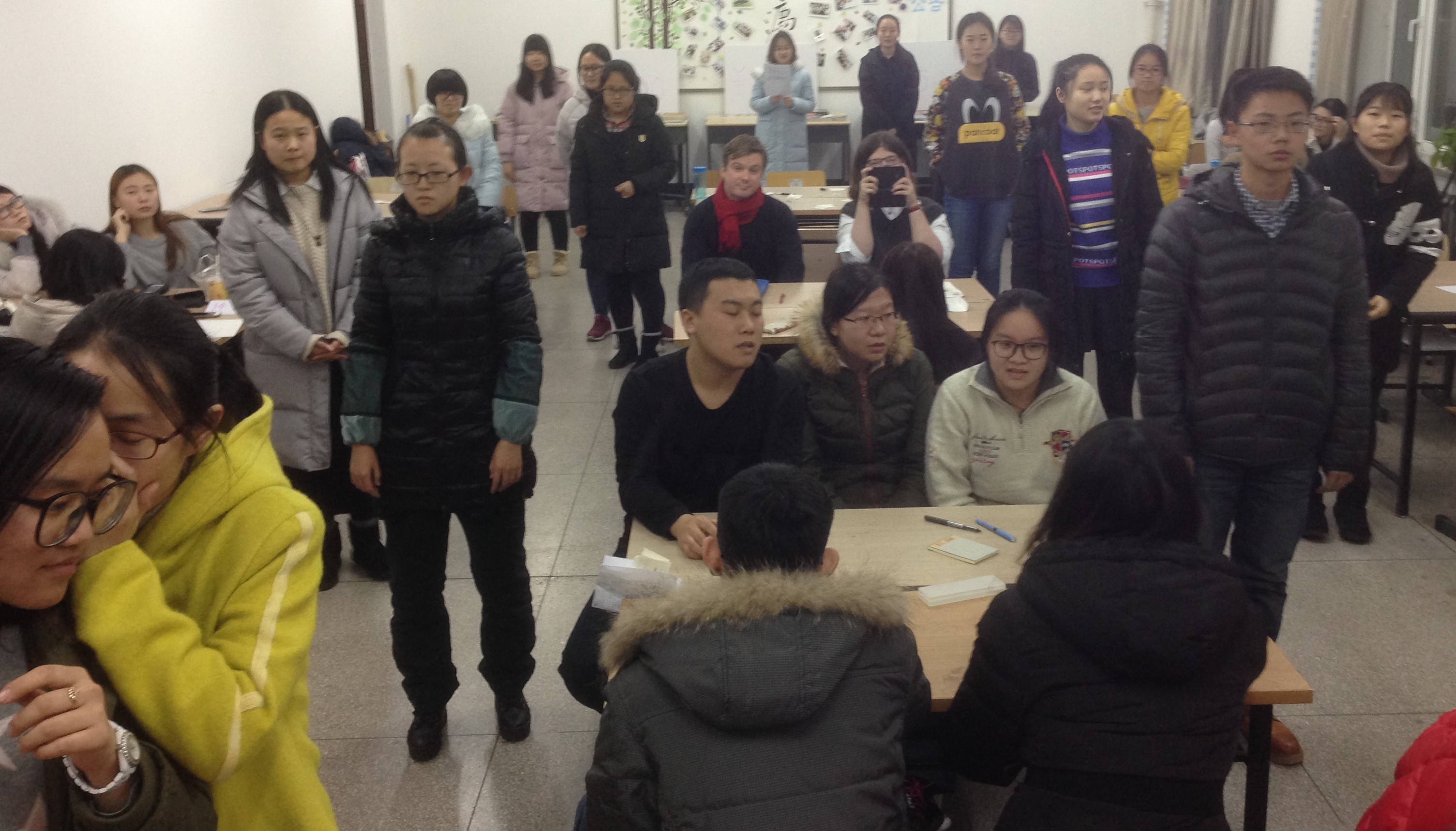 in which each team chain of Chinese whispers was only as fluent as its weakest link.
Up and down ran the competitions, and the temperature in the classroom rose gradually to the point where winter coats were merely optional, not de rigeur.
'twould've been un-American not to foist U.S. geography upon their insatiable intellects!
Adam diligently inspects the completed maps from a world geography challenge with currency for the money ordering challenge piled in the background, eagerly awaiting their moment in the spotlight.
Spectators and assistants waited with bated breath for each new round of competition and the glorious points they would bestow, often leaping from their seats with glee at the anouncement of even minor victories. Fortunately no points had to be deducted for poor sportsmanship!
Time was quickly winding down, though the spirit of competition remained fierce
. With only a few rounds to go, the primary battles were for 2nd and 3rd place, as well as 4th and 5th place. A clear favorite emerged early, with many wins in the team challenges, and the most correct answers to the field questions.
Some teams were understandably demoralized, and the stamina of all was tested. Having begun at 5:30 on a Sunday evening and approaching the 9 o'clock hour, the focus soon became how many more questions and challenges would be presented, lest the competition become a war of attrition!
With the grand prize well decided, the closing whisper race ended with a dramatic reversal of second and third place, while solidifying the lower rankings as well.
At Left is the final scoreboard, with total points in blue and Team Rank on the far Right.
Notably, the ROUND 1 Scrabble competition predicted the final results almost perfectly--the top 3 in Scrabble also prevailed in ROUND 2. Congratulations to the grand prize winners, Team 6= 2015 Politics A 政治. They won every part of every round of competition, losing only a few times in ROUND 2 before ultimately prevailing. If we do this again and their team reassembles, they'll be a clear favorite to repeat as champions.
Second prize went to Team 10= 2014 International Politics A 国际政治. In third place were the seniors of Team 11= 2013 International Politics 国际政治.
May their glory live for all time in the annals of NENU history!
None-too-shabby consolation prizes of music cds and slightly lesser sums of cold, hard student cafeteria card funds went to the following teams (who seemed to have a better photographer than yours truly):
Will NENU ever again know the travails and wonders of such a competition? Julian appears slated to slay other dragons in Spring and Fall 2017, though the future is, indeed, anyone's game! [CUE THEME MUSIC AND CLOSING CREDIT SEQUENCE...]
Special thanks to assistants in Round 2: Ben, Adam, Raise, Kirsten, Vicky, Cherry Ren, and the senior international politics team. If students would like to do something similar next year, perhaps in conjunction with Newark (RUNIN), Julian is open to suggestions and volunteers. Please feel free also to suggest additions or edits to this page; it took a really long time to compile (which is why it didn't get published until over half a year after the event). Other photos are available upon request.
Top of Page Fall 2017 BEPC Back to NENU Page Go Home